GCS Chess Teams in State Competition
GCS chess teams participated in state chess competition over the weekend.
In 12th/Under, Goshen High School had one team, and they finished 17th of 27.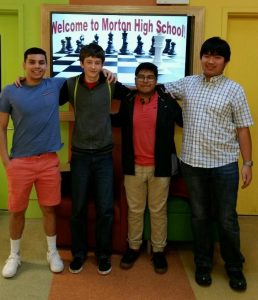 Goshen High School
Goshen Middle School had two teams in 8th/Under. Our "A" team finished 4th of 35 teams. This was our best result, and was really a very good effort. The match they lost was to the eventual champions, but it was a very good day for them. Our "B" team in that division finished 23rd. The "A" team was Matthew Snyder, Daniel Elizalde, Sam Kreps-Long, and Cole Johnston.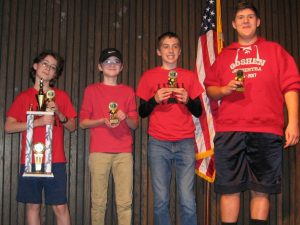 GMS (left to right)-Matthew, Sam, Cole, and Daniel
In 6th/Under we had 3 teams: Chandler finished 17th of 44, Parkside was 32nd, and Prairie View was 38.
Finally, we had 4 teams in 3rd/Under. Parkside just missed a trophy on tiebreaks, finishing 12th of 54, Prairie View was 21st, Chandler was 35th, and Waterford was 37th.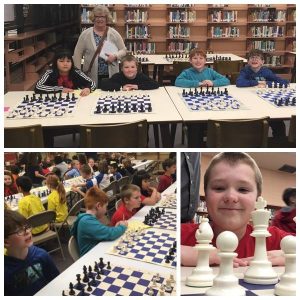 Waterford Chess
Individually, Daniel Elizalde, an 8th grader, had the best results on the day, winning all 5 of his games. Cole Johnston had a good result, too, winning 4 and drawing 1.
In the 6th/Under division, Quinn Shreiner Landes (Chandler) won 4 of 5, and Mira Yoder (Parkside) won 5 of 6 in 3rd/Under.
Although it may not have been Goshen's most successful state tournament, it was still a great day. The kids behaved well, they were where they were supposed to be when they needed to be, and the students never caused any problems or disruptions for the team coaches. Thank you to our students for being such great representatives of Goshen Community Schools!
Congratulations to all of our GCS chess participants:
Chandler-Evan Hochstedler, Moses Kratzer, Myles McLaughlin, Isaac Moore, Aiden Saner, Cai Saner, Ethan Sharp-Merriman, Quin Shreiner Landes, and Calvin Strader.
GHS-Demetrius Gulewicz, Anton Pham, Raul Quiroz, Alan Rivera, and Ryan Schlichter.
GMS-Christina Elizalde, Daniel Elizalde, Emre Gulec, Cole Johnston, Samuel Kreps-Long, Joseph McKeage, Logan Miller, Josiah Schlabach, and Matthew Snyder.
Parkside-Tinsley Benjamin, Jacob Cottey, Benjamin Fleming, Lucas Kroening, Isaya Magatti, Shemaya Magatti, Roman Nyce, Kendall Scott, Tyler Scott, Kevin Sixtos, and Mira Yoder.
Prairie View-Lian Espinosa, Aiden Gill, Jayden Schlabach, Saghan Schlabach, Isaac Stahly, Levi Subera, Noah Subera, and Preston Wright.
Waterford-Oliver Kauffman, Ellie Morris, Anson Witmer, and Elijah Witmer.